Memoir of Bill Thurley, 1930-1950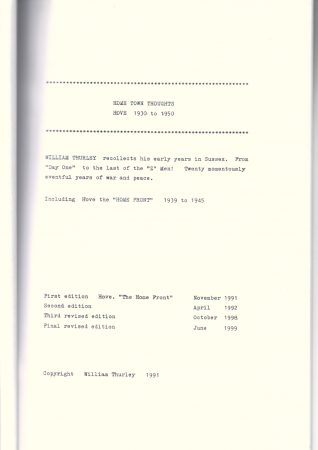 Bill Thurley was born Clarence William Thurley at 32 Stoneham Road, Hove, in 1930 and spent his entire life in Hove.
Bill attended West Hove School and then Knoll School after which he held a number of jobs, including working as a cinema projectionist at various cinemas in Brighton and Hove, before doing his National Service in 1948.  He recorded his life during this period in his memoir: "Home Town Thoughts, Hove 1930-1950".
A bomb in Shirley Street
"Mr Heath has vivid memories of war-time Hove, including being machine-gunned in Blatchington  Road and of a bomb which dropped in Shirley Street close to where he then lived at number 52. This was a small newsagents shop with accommodation. Running home, Derek found his mother safe in their Morrison Shelter. 'Derek' she called, 'I forgot to close the shop door…' 'Mother,' he told her, 'the shop door is in the middle of the street!'".
Bill's memoir was comleted in 1999 and was shared with the Letter in the Attic project by his wife, Margaret Thurley.
Want to know more?
View this entry on the Letter in the Attic online catalogue.
Explore the full catalogue
Visit the home page of the Letter in the Attic project