Letter from Thomas Fairchild, 1928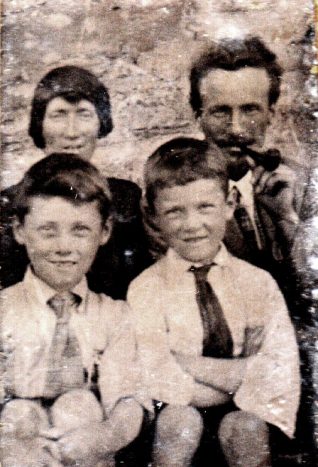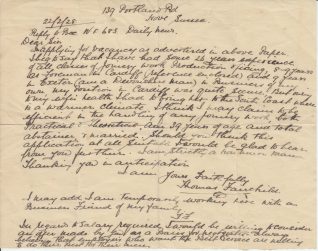 Thomas Fairchild moved to Brighton from Cardiff in around 1927, to search for work. His wife, Annie Elizabeth Fairchild, and three children joined him in 1928, shortly before he was killed in an accident on a building site in Edward Street. His wife was left with a new baby, two boys and very little money.
Shortly before his death, he applied for a job as a joiner.  It seems the application was unsuccessful, because there is no apparent connection between this application letter and the building site on which he was killed.
Strictly a non union man
"I think I may claim to be efficient in the handling of any joinery work, both Practical & Theoretical, Am 39 years of age and total abstainer, & married. Should you think this application at all suitable I would be glad to hear from you further. I am strictly a non union man."
Letters and photos related to Thomas Fairchild have been contributed to Letter in the Attic by Beryl Payne, Thomas Fairchild's granddaughter.
Want to know more?
View this entry on the Letter in the Attic online catalogue.
Explore the full catalogue
Visit the home page of the Letter in the Attic project