Letters from Robert Gregory, 1942-1945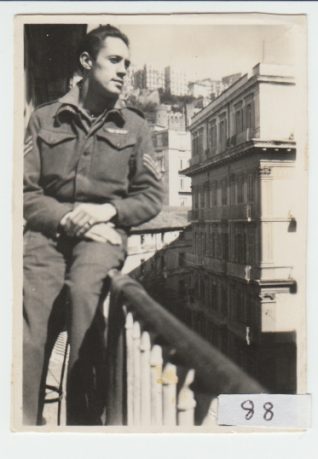 Robert Gregory served as a Trooper with the 50th Royal Tank Regiment, 8th army, during the North African Campaign of the Second World War.
Robert's letters and airgraphs sent home to his family in Brighton from North Africa and Italy during the war form part of the collection that he has shared with the Letter in the Attic project.
15th April 1945
Giving English lessons
"In isolation in Sicily as one of fellow-soldiers had got dip[theria]:
….the second day I was here I got friendly with a family, fairly well off, and gave English lessons to the son and daughter. They are very clever. The daughter is eighteen and apart from a glass eye, a very beautiful girl. She is called Adriana. When the news of my isolation reached them, they were very sorry, and now, twice a day, Adriana brings me two hardboiled eggs!!! I give lessons to her brother over the wall. What a world!"
Want to know more?
View this entry on the Letter in the Attic online catalogue.
Explore the full catalogue
Visit the home page of the Letter in the Attic project