Letter of reference for Eileen Odom, nee Pickett, 1942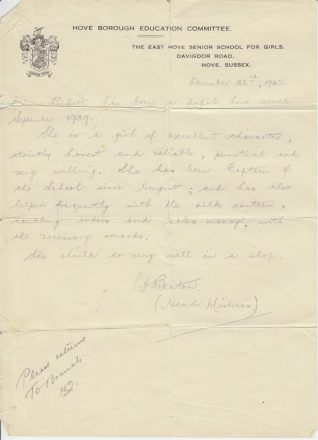 Eileen Odom (nee Pickett) was born in Shoreham in 1928 but the family moved to Coleridge Street, Hove in 1938.  She attended Ellen Street School, Hove, for one year, and then East Hove Senior School for Girls in Davigdor Road.
She left school at the age of 14 and started work on 28th December 1942 at a branch of Liptons grocers on the corner of Blatchington Road and George Street, her headmistress having written a glowing reference for her! The letter of reference, together with many other papers, have been shared with the Letter in the Attic project by Eileen Odom.
Reliable and punctual
"She is a girl of excellent character, strictly honest and reliable, punctual and very willing…  She should do very well in a shop."
Want to know more?
View this entry on the Letter in the Attic online catalogue.
Explore the full catalogue
Visit the home page of the Letter in the Attic project