Letter relating to Frederick Langridge, 1942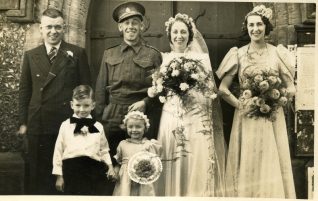 Contributed to the Letter in the Attic by Jill Langridge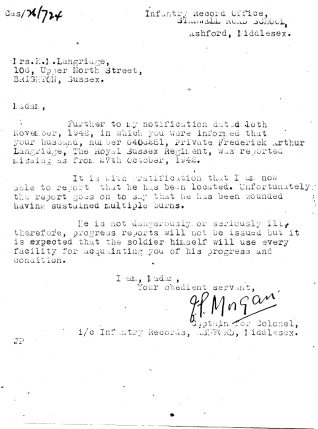 Contributed to the Letter in the Attic by Jill Langridge
Frederick Arthur Langridge was married to Kathleen Mary Stoner at St Nicholas Church, Dyke Road in Brighton on 14th September 1940, the day on which the Odeon cinema in Kemp Town was bombed.
Frederick served as a Private in the Second World War and was reported missing in November 1942. In December of that year, however, Kathleen received notification that he had been 'found' although injured and in hospital.
He has been located!
"It is with gratification that I am now able to report that he has been located.  Unfortunatley the report goes on to say that he has been wounded…  He is not dangerously or seriously ill, therefore, progress reports will not be issued but it is expected that the soldier himself will use every facility for acquainting you of his progress…"
A collection of letters and papers related to Frederick Langridge's wedding and war experiences.has been shared with the Letter in the Attic project by Frederick's daughter, Jill Langridge.
Want to know more?
View this entry on the Letter in the Attic online catalogue.
Explore the full catalogue
Visit the home page of the Letter in the Attic project