Letter to Albert Stanford, 1945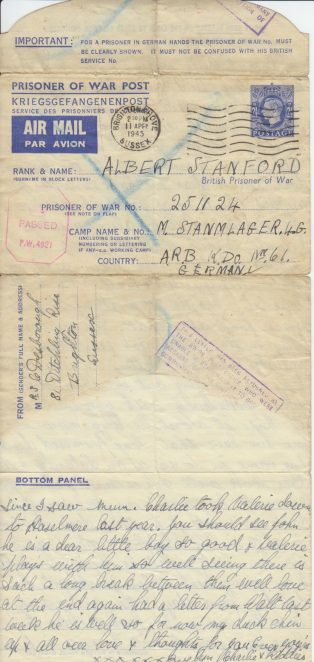 Albert Stanford (c1920-1986) was born near Turners Hill, West Sussex and worked as an engineer for much of his life. He served as a soldier in Europe during World War II and was taken prisoner and sent to Stanmlager POW camp. He also spent some time in Italy as a POW working as an engineer repairing the railways.
While Albert was incarcerated in Stanmlager, his sister, Evelyn Desborough of 81 Ditchling Rise, Brighton, wrote to him on a weekly basis describing domestic and family events. Only this letter survives, possibly because it was returned undelivered by the Swiss post office as Albert may have been released by the time the letter arrived.
The letter was contributed to the Letter in the Attic project by Evelyn's son, John Desborough.
Always thinking of you
9th August 1945
"My Dearest Bert, Again a few lines dear hoping they find you well as it leaves us fine… you hadn't had any mail well, duck, have been writing to you often I expect it is held up on  account of all the business. Don't think dear, that we have forgotten you – always thinking of you, more so now. The kiddies are fine, also ourselves. I don't know if I told you we have moved upstairs. We have a lovely flat nice garden & bath the kiddies love it."
Want to know more?
View this entry on the Letter in the Attic online catalogue.
Explore the full catalogue
Visit the home page of the Letter in the Attic project