Letter to Millie Lander, 1944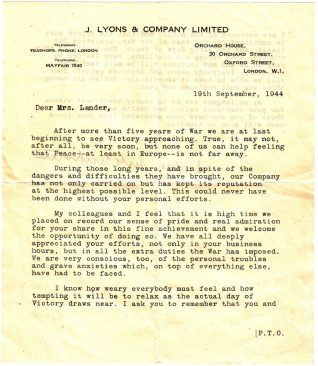 Amelia 'Millie' Steel was married to Percy Lander and had two sons, Victor and Percy John.  Millie lived on the Whitehawk estate and worked in the J. Lyons tea-shop in North Street, Brighton during the Second World War.
In September 1944, Millie received a letter of thanks from J. Lyons which also asked that she be sure to keep working even though 'Peace … is not far away'!
A sense of pride
"During those long years, and in spite of the dangers and difficulties they have brought, our Company has not only carried on but has kept its reputation at the highest possible level…  It is high time we placed on record our sense of pride and real admiration for your share in this fine achievement…"
Many papers relating to the Lander family have been shared with the Letter in the Attic project by Millie's son, Victor Lander.
Want to know more?
View this entry on the Letter in the Attic online catalogue.
Explore the full catalogue
Visit the home page of the Letter in the Attic project