Memoir of Patricia Tongue (1936-1949)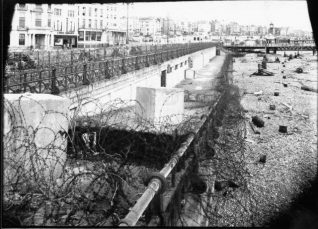 Reproduced with kind permission of Brighton and Hove libraries
Patricia Tongue was born in Ghana in 1926. She lived in Brighton between 1936 and 1949 and attended St. Luke's Junior School and Varndean Grammar School for Girls. Patricia taught at Moulsecoombe County Secondary School for 3 years before obtaining a degree and specialising in teaching English and History in a school in Surrey.
A 28-page memoir covering the period 1936-1949 has been contibuted to the Letter in the Attic project by the author.
3 September, 1939
"I persuaded my mother to let me go to the beach with a friend. She was not very willing, as the news was bad and the Prime Minister was due to make a statement at 11 am.  We swam and sat in the sun – it was a lovely day – until sirens sounded…. That was the last time I went to the beach for at least ten years."
Want to know more?
View this entry on the Letter in the Attic online catalogue.
Explore the full catalogue
Visit the home page of the Letter in the Attic project