Schoolbooks of Margaret Hutchings, 1945-1947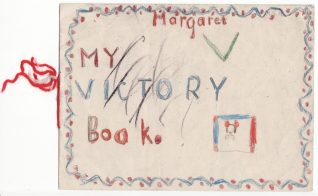 Contributed to the Letter in the Attic by Margaret Pearce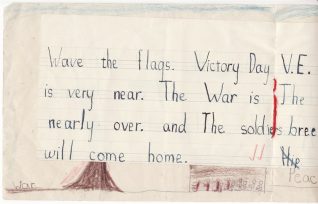 Contributed to the Letter in the Attic by Margaret Pearce
Margaret Rosemary Hutchings (later Pearce) was born in Brighton in 1938 and lived at 39 Park Road in Coldean. She went to Falmer Church of England School from the age of 5 to 9.
Margaret has contributed some of the entries in her schoolbooks from this time to the Letter in the Attic project, together with a memoir she wrote in later life.
Here you can see an extract from a Victory Book she created in 1945.
My Victory Book,  1945
"Wave the flags. Victory Day is very near. The War is nearly over and the soldiers will come home."
Want to know more?
View this entry on the Letter in the Attic online catalogue.
Explore the full catalogue
Visit the home page of the Letter in the Attic project