Papers relating to the funeral of Habibollah Mohebati, 1991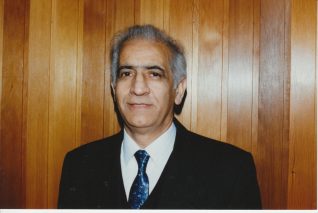 Contributed to the Letter in the Attic by Farangiz Khavari Mohebati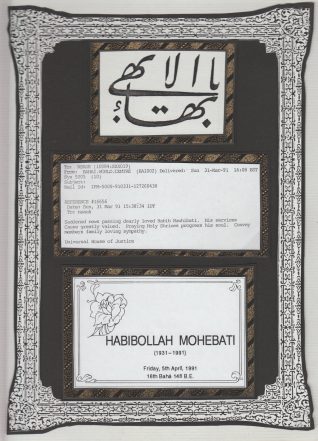 Contributed to the Letter in the Attic by Farangiz Khavari Mohebati
Habibollah Mohebati was born into a Baha'i family in the town of Yazd, Iran, in 1931.  Having completed his studies, he became a successful and prominent businessman in Iran.  He married Farangiz Khavari in 1960 and they had one daughter and two sons.
After the revolution in Iran in 1980, he left the country with his family and settled in Brighton.  He became ill with leukaemia in 1990 and died at the age of 60 on 28th March 1991.
A collection of papers and photos relating to the funeral of Habibollah Mohebati at Hove cemetery has been shared with the Letter in the Attic project by his wife, Farangiz Khavari Mohebati.
Baha'i World Centre sends condolences
"Saddened news passing dearly loved Habib Mohebati. His services [to the] Cause greatly valued. Praying Holy Shrines progress his soul. Convey members family loving sympathy. Universal House of Justice."
Want to know more?
View this entry on the Letter in the Attic online catalogue.
Explore the full catalogue
Visit the home page of the Letter in the Attic project