Diary of a Sussex student, 1977-78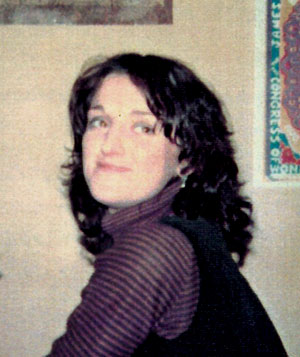 In 1977-78, J. wrote a diary about her life as a 3rd year student at Sussex University.  She was taking an English degree.  Born in South London, J. was taking an English Literature degree  and was living in Brighton for the first time.
Here's how she feels about the diaries now:
"My third year as a student was the one in which I realised I was supposed to read all those books and so began to feel able to write the essays and engage more in the academic side of the university. At the same time, I seemed to have a constant stream of people moving in and out of my days and a great capacity for drink. During the previous two years, I had been struggling to find my identity and separate from my familiar but dark life in London; in the 3rd year I hit my stride as a Brighton girl.
"Brighton was a quieter place then – a town rather than a city. We drank in ordinary pubs in town – the student bars and clubs were to be found on campus. The Crypt (next to Falmer Bar) holds the best memories. Some of the places we went have been renamed or moved – the Top Rank Suite and the original Concorde, for example. The extent to which I mention music in the entries surprises me and reminds me that in your student days, music isn't incidental, as it is now, but the soundtrack of your life.
"This project has enabled me to read these diaries with some objectivity for the first time – they previously made me squirm with embarrassment, but now I can read them with humour, seeing myself as a typical student of the time. Obviously, I wish my language had been more powerful and less clichéd, my insights deeper and descriptions more detailed…but I do now view the girl of 22 with her hippy lingo with some affection, despite her sometime carelessness of others and self-absorption. I would like to think I have advanced in insight and wisdom since these diary entries, but in reading them I've been shocked to find that I am much the same – I just know about consequences now, so make better – or safer- decisions."
Maybe best birthday ever
"Sun 4th June
Birthday
"Up early and split home to get things tidied up before les parents arrived. Washed kitchen floor. J. gave me some lovely 'Rainwater' perfume. R. – gross lovely earrings. S. – green glass old bottle. T – chocolates.
"Enter mum and dad about 11. To beach and meet A. and boys and M. Sunshine broke into clouds so we split to country for picnic. Hangover came on with a vengeance. Managed to sleep for a bit. Home about 5 and bathed.
"To Crypt party [next to Falmer bar on campus] with much laughter with whorish R.. Met grotto M. at station. Was rude. Great party. Pissed in extremis. 10 or so tequilas. Bopped night away. Enter lovely present and surprise – P. Split early as couldn't stay vertical a minute longer. Made ass of self at station. Sat on bridge to avoid G. Kept collapsing. Pissed in bushes. Good one tho. P. piggy-backed me home. Crashed to String Band and James Taylor. Lovely magic purse from G.. Maybe best birthday ever."
Want to know more?
View this entry on the Letter in the Attic online catalogue.
Explore the full catalogue
Visit the home page of the Letter in the Attic project