Diary of Trevor Povey, Oct 1987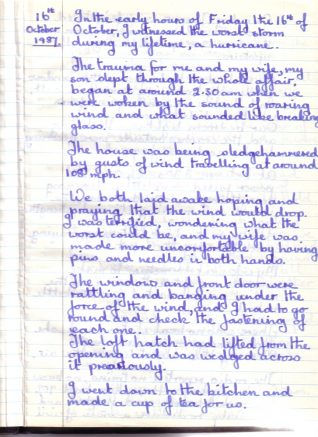 Contributed to the Letter in the Attic by Trevor Povey
Trevor Povey was born in South Portslade and has lived all his life in the Brighton and Hove area.
He moved to Wickhurst Rise, Mile Oak, on the 22nd December 1976 and he and his family were in the house on the night of the great storm: 16th October 1987.  Just before the storm, he had bought a book with the intention of keeping a diary and found that its first use was to record the events of the night and following day.
The War of the Worlds?
"It felt a little like the War of the Worlds had started and we were the only ones left…As you walk or ride around the town, the emotions are not easy to describe…There are those who are still ready to prey on the less fortunate.  One jobbing builder could be seen, selling his stock of tiles and slates, stuffing £10 notes into his pockets as fast as people could load their cars…."
Want to know more?
View this entry on the Letter in the Attic online catalogue.
Explore the full catalogue
Visit the home page of the Letter in the Attic project