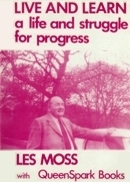 Les Moss wrote a memoir called 'Live and Learn: A Life and Struggle for Progress', which was published by QueenSpark Books in 1979. A centre-lathe turner by profession, his life story described his involvement in trade unionism and provides a picture of political activism in London and Brighton from the 1920s onward.
Les Moss left all his papers to QueenSpark on his death, and a selection of his letters have been contributed to the Letter in the Attic project. In particular, a series of letters detail his struggle to obtain compensation for the amputation of his leg in 1966.
Crippled by mistakes of the Health Service
"Dear Sir,
I claim that people crippled by mistakes of the Health Service are a special case which cannot be properly dealt with by local branches of the Social Services. I have tried a number of different ways of getting justice and fair treatment, locally and nationally. I have tried appealing through doctors, solicitors, hospital authorities, the local welfare offices, Jack Jones of the Transport and General Workers Union etc. From none of them have I obtained what I see as my rights. This is why I am writing to you as the Labour Minister of Health, in the hope that you will take the appropriate actions on my behalf. I will set out the relevant facts in chronological order."
Want to know more?
View this entry on the Letter in the Attic online catalogue.