Letters from the Falklands, 1982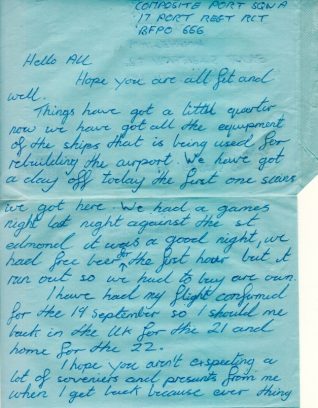 Contributed to the Letter in the Attic by Beryl Tucknott
Brian Tucknott was born in 1961 in Brighton. In 1982, he was a Lance Corporal with Composite Port Squadron A, 17 Port Regiment, Royal Corps of Transport, deployed to the Falkland Islands during the  conflict between the UK and Argentina.
Brian wrote a number of letters to his mother, Beryl, living in Whitehawk, Brighton, during the Falklands War of 1982.
The first day off since we got here
"Things have got a little quieter now we have got all the equipment off the ships that is being used for rebuilding the airport.  We have got a day off today – the first one since we got here.  We had a games night last night against the St Edmond – it was a good night, we had free beer for the first hour but it run out so we had to buy our own.
"The house we are living in looks quite good now. We have all been painting and decorating and the old boy whose house it is, is building an extension so we can thin out a bit."
Brian Tucknott has contributed a selection of his letters from the Falklands to the Letter in the Attic project.
Want to know more?
View this entry on the Letter in the Attic online catalogue.
Explore the full catalogue
Visit the home page of the Letter in the Attic project