Diary of a Hove Mayoress, 1988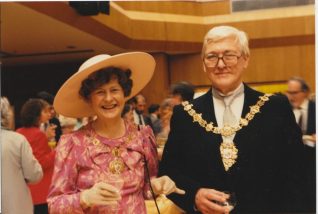 Contributed to the Letter in the Attic by Audrey Buttimer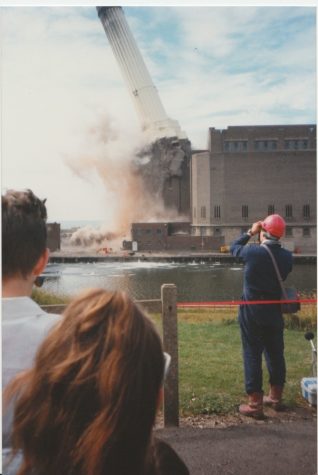 Contributed to the Letter in the Attic by Audrey Buttimer
Audrey Buttimer wrote a diary during the year when her husband, James Buttimer was Mayor of the Borough of Hove (May 1988 – May 1989).  At this time Audrey Buttimer was a councillor in her own right and she herself became the Mayor of Hove from 1991 to 1992.
Demolition of Shoreham Power Station
"Demolition of Power Station Chimney. A fantastic morning. Thousands of people lining the route. Perfect day. Warm. Hardly any wind & what there was blew away dust out to sea.  Boarded launch.  Mr. Richings – builder asked two Worthing schoolgirls involved in the Greek terrorist boat attack to press the button.  I wondered how they would feel being on water again. They were concerned as well but coped well…..  Lunch afterwards salad, ham, turkey and delicious sweets in Port Authority offices.  (Felt as if I was watching from another planet as chimney fell slowly and cloud of dust enveloped it.)"
Audrey Buttimer contributed her diary and related photos to the Letter in the Attic project.
Want to know more?
View this entry on the Letter in the Attic online catalogue.
Explore the full catalogue
Visit the home page of the Letter in the Attic project