Correspondence of the manager of Brighton Aquarium, 1873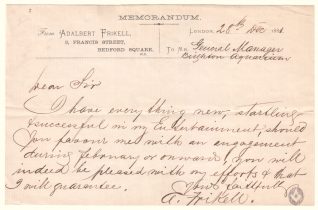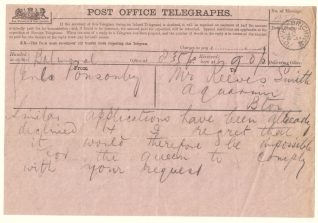 George Reeves Smith was the manager of Brighton Aquarium from c1873-1880. Some of his correspondence concerning variety acts at the Aquarium Theatre is in the private collection of Edward Scalé, who has shared them with the Letter in the Attic project.
Some of the letters solicit engagements, others concern arrangements for a booking.
Adalbert Frikell applies for a booking, 1881
Dear Sir, I have everything new, startling and successful in my Entertainment. Should you favour me with an engagement during February or onwards, you will indeed be pleased with my efforts and that I will guarantee.
A telegram from Balmoral turns down a request
Similar applications have been already declined and I regret that it would therefore be impossible for the Queen to comply with your request.
Want to know more?
View this entry on the Letter in the Attic online catalogue.
Explore the full catalogue
Visit the home page of the Letter in the Attic project