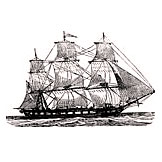 During the 1850s, the Brighton Gazette and other local newspapers published regular items of Emigration News which included letters received by families and friends of two large parties which left the town for Australia in 1849 and 1852.
The contribution to the Letter in the Attic project is a typescript of a book written and self-published by Joyce Collins Ph.D in 2008 based on the letters sent home by these groups and published in the Brighton Gazette and the Brighton Herald.
A most desolate appearance
"Northam, Western Australia, November 10th, 1849
"I had almost forgotten I had promised to give you a statement of the colony, in my desire to learn something of old friends. I must begin by answering your first question, – what sort of country is it? The coast on first sight has a most desolate appearance in the eyes of all who arrive direct from England, and many feel disappointed after landing; but I doubt if Paradise itself will please all."
Extract from a letter received by Mr Matthew Cooke of the post office, from his brother (John I Cooke) who emigrated from Brighton to Australia.

Want to know more?
View this entry on the Letter in the Attic online catalogue.