Applicants for poor relief in Victorian Brighton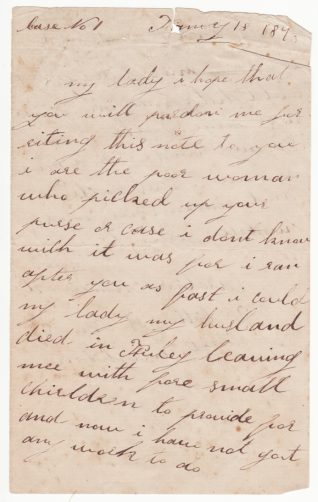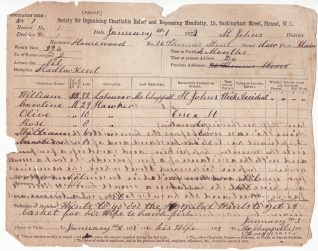 In 1873, Caroline Homewood sent this imploring letter to a lady she had encountered in the street. Was she telling the truth or is this just a begging letter?
My lady,
I hope that you will pardon me for writing this note to you. I am the poor woman who picked up your purse or case  – I dont know which it was, for I ran after you as fast as I could.
My lady, my husband died in July leaving me with four small children to provide for, and now I have not got any work to do.
My lady, I should be so thankful if you could help me in giving me some work. I can do any work in a house. 
So now I must conclude, and remain your most humble servant
Caroline Homewood
31 Little St James Street Brighton
The investigation begins
The lady who received the letter had a way of finding out the truth. One year, earlier, in 1872, the Brighton Mendicity Society was formed to coordinate poor relief in Brighton. The Society's investigators researched the history of people who applied for assistance and wrote up the findings in casenotes.  150 of these casenotes have survived.
In this case, Caroline was telling the truth. Her husband, 'a hard-working man but very much given to drink' had contacted the Society a year earlier. He had asked for help so he could go into hospital and Caroline could get a basket to sell fish. Since then:
"Applicant has lost her husband and after that she went into the country hop-picking and saved up a few pounds and with the assistance of a few friends she took a small grocers shop in Richmond Street where she remained for 3 months and then failed in business, and left a week ago. Since that she has taken a small house 31 Little St James Street, and she has also taken out a licence and got a little stock of fancy articles to try and get her living by hawking." 
The casenotes were shared with the Letter in the Attic project by the modern-day descendant of the Mendicity Society, the Brighton Money Advisory and Community Support Service.
Want to know more?
View this entry on the Letter in the Attic online catalogue.
Interested in using this material in a classroom?
There's an education module about this topic.
Explore the full catalogue
Visit the home page of the Letter in the Attic project