Letter of condolence to Ethel Whitehouse from a fellow-soldier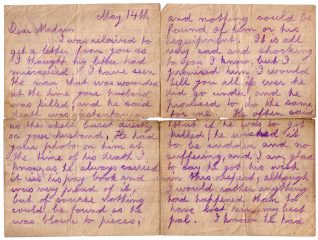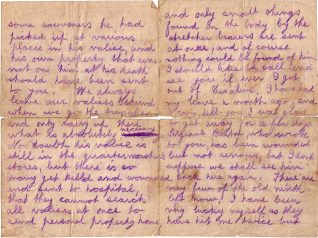 This letter is a fragment; the final section has been lost. The transcript has been edited for punctuation and spelling.
May 14th [1916]
Dear Madam
I was relieved to get a letter from you as I thought my letter had miscarried.  I have seen the man that was wounded at the time your husband was killed, and he said death was instantaneous as the shell burst directly on your husband.  He had your photo on him at the time of his death I know, as he always carried it in his prayer book and was very proud of it, but of course nothing could be found as he was blown to pieces, and nothing could be found of him or his equipment.
It is all very sad and shocking to you I know, but I promised him I would tell you all if ever he did go under, and he promised to do the same for me.  He often said that if he was to get killed he wished it to be sudden and no suffering, and I am glad to say he got his wish in this respect, although I would rather anything had happened than to have lost him, my best pal.  I know he had some souvenirs he picked up at various places in his valise, and his own property that was not on him at his death should have been sent to you.
We always leave our valises behind when we go the trenches and only carry up there what is absolutely necessary.  No doubt his valise is still in the quartermaster's stores, but there are so many who get killed and wounded and sent to hospital, that they cannot search all valises at once to send personal property home, and only small things found on the body by the stretcher bearers are sent at once, and of course nothing could be found of him.
I should like to call and see you if ever I get out of this alive.  I have had my leave a month ago, and I can tell you I was glad to get away for a few days. Sergeant Barton, who wrote to you, has been wounded, but not serious, but I don't suppose we shall see him back here again.  There are very few of the old ninth left now, I have been very lucky myself as they have hit me twice but ….
[end]