Letter from Percy Whitehouse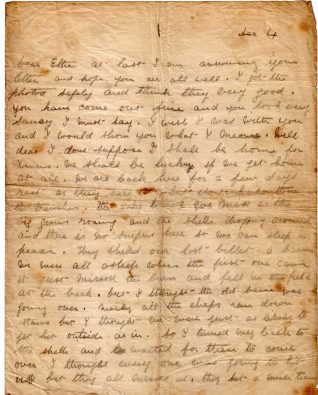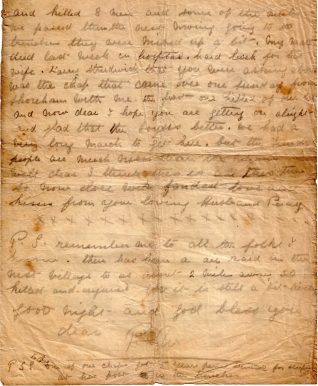 This letter to his wife describes a rest period and an incident when Percy was shelled. The transcript has been edited for punctuation and spelling.
December 4th [1915]
Dear Ettie,
At last I am answering your letter and hope you are well.  I got the photos safely and think they are very good.  You have come out fine and you look very saucy, I must say.  I wish I was with you and I would show you what I mean.  Well dear, I don't suppose I shall be home for Christmas.  We shall be lucky if we get home at all.
We are back here for a few days rest, as they call it, but it is harder than the trenches.  The only thing we miss is the big guns roaring and the shells dropping around, and there are no snipers here so we can sleep in peace.
They shelled our last billet, a barn.  We were all asleep when the first one came.  It just missed the barn and fell in the field at the back but I thought the old barn was going over.  Nearly all the chaps ran downstairs but I thought we were just as likely to get hit outside as in.  So I turned my back to the shells and waited for them to come over.  I thought every one was going to hit us, but they all missed us.  They hit a mule team and killed 8 men and some of the mules.  We passed them the next morning going to the trenches.  They were mixed up a bit.  My mate died last week in hospital.  Hard luck for his wife.
Harry Strudwick that you were asking about was the chap that came over one Sunday from Shoreham with me.  The first one killed of our lot.
And now dear, I hope you are getting on alright and glad that the boy is better.  We had a very long march to get here, but the French people are much nicer than the Belgians.
Well dear I think this is all this time so now close with fondest love and kisses from your loving husband
Percy xxxxxxxxxxxxxxxxxx
P.S. Remember me to all the folks I know.  There has been an air raid in the next village to us about 2 miles away.  30 killed and injured so it is still a bit lively.  Good night and god bless you dear.
P.S.S. Today one of our chaps got 5 years penal servitude for sleeping at his post in the trenches.