Brighton & Hove foodies help fight food poverty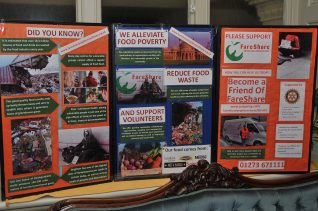 Photo by Tony Mould:click on photo for large version
Fundraising evening
Members of the local food industry helped raise over £440 for food charity, FareShare Brighton and Hove on Thursday 8 December. Invited by the Mayor of Brighton and Hove Councillor Anne Meadows, guests gathered in the Mayor's Parlour for a lively evening with refreshments, prizes and an address by Lindsay Boswell, Chief Executive of FareShare UK.
Redistributing quality surplus food
FareShare Brighton and Hove has been fighting food poverty for nearly 10 years by redistributing good quality surplus food from the food industry to projects catering for people in need. So far this year, food manufacturers and retailers have donated over 250 tonnes of food to FareShare Brighton and Hove, who have then delivered it to over 40 organisations in the city. The food goes to night shelters, community centres and hospices where people who are experiencing food poverty can go for hot meals and hand-outs.
If you would like to find out more about the work of Fareshare, please visit their website.  They can be contacted by email at info@faresharebrightonandhove.org.uk