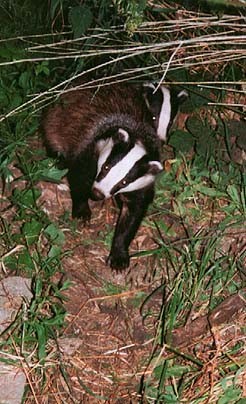 There are lots of badgers in the Brighton area and many people may have this protected animal in their gardens. They tend to settle down anywhere there is a bit of wild countryside. They don't normally set up home in flat fields preferring instead places where they can build their sets without having to dig too deeply, like the side of a hill.
A good haunt
Cemeteries are often a good haunt for badgers as they can settle in crypts or dig down into where people are buried, and they have even been known to disturb bones in the process. Railway embankments are also good sites, but unfortunately this often results in badger fatalities on the rail tracks.
Personal interest
My own interest in badgers and wildlife photography goes back about 10 years. It all started when one hot summer I was watching the foxes at the back of our garden which backs onto a hill. There didn't seem to be much for them to find, so I started putting out scraps left over at the end of each day from the café my wife owned.
Feeding time
One night a badger came down the track right past where I was standing. He walked past the food by the back gate and then sort of did a retake and came back to have another look. He then disappeared up the path and about ten minutes later he came along again, but this time bringing his entire family, and from then on they have been coming to the back gate every night. There is not a night that they don't get fed, if I'm late home or go out early, they always get provided for.