South Downs shelter Brightonians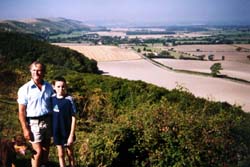 Photo from a private collection
The Downs, that shelter us Brightonians from those icy north winds in the winter, are of great importance to the character of the area. After all, most of our houses are built on them but the part I am refering to here – ie, the place I like to be! – is the part that hasn't been built on.
In need of protection
The part that is designated as an area of 'Outstanding Natural Beauty'. Part owned and looked after by Brighton Council, and part owned by the National Trust and the farming community. All soon to come under the great umbrella of National Parks status and the sooner the better I say. For this beautiful area is in vital need of absolute protection for wild life and country side activities for visitors and the local community alike.
The joys of a walking
There is nothing I like better then to walk the downs on a fine day, or even a rotten day for that matter. To follow the ridge over Ditchling Beacon. To explore the meandering paths around the dyke or to do a bit of bird watching on Southwick Hill and then walk on to Thunders Barrow. The possibilities are pleasantly endless and the rewards are great.