Proprietary and subscription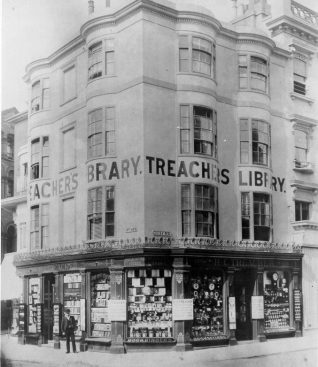 Please note that this text is an extract from a reference work written in 1990.  As a result, some of the content may not reflect recent research, changes and events.
The subscription libraries of the late eighteenth century provided one of the earliest amusements for visitors to Brighton other than promenading and riding, and were therefore important establishments where visitors would sign the Master of Ceremonies' book to announce their arrival in the town. They could also converse, listen to music, buy frippery, gamble at 'Pam' or 'Loo', or even read books! Two of the leading establishments are now described below.
a) BAKER'S LIBRARY, Old Steine : The town's first library was established in 1760 by Mr E.Baker, a Tunbridge Wells bookseller. It was a single-storey timber building with an arched verandah, and stood at the southern corner of what was to become St James's Street ; it was in fact the first building on the eastern side of the Steine. The library initially opened only until the end of October, and was more like a club than a modern-day library with a billiards room and a wooden rotunda for musicians.
Following Baker's death in May 1774 it was taken by R.Thomas who kept it open all year round as the Brighthelmston Circulating Library. From 1781 until about 1784 the town's post-office was situated at Thomas's Library.  It then passed to a Mr Dudlow, to Messrs Dulot and Gregory, and finally to a Mr Donaldson who opened a new library on the site in June 1806. The Prince of Wales appointed Donaldson as his bookseller and librarian, but the library was later run by Thomas Luccombe and was modernised in the mid nineteenth century. In 1856 the building was taken by the Electric Telegraph Company, and the site is now occupied by St James's Mansions.
b) WOODGATE'S LIBRARY, Old Steine : Opened in about 1767 on the southern side of the Steine, to the west of Dr Russell's house. It was a two-storey wooden building with a Doric colonnade, and was later taken by A.Crawford. From about 1784 until 1803 it included the town's post-office, and was run at various times by a Miss Widgett, Mr Bowen, F.Fisher and a Mr Shaw.
Any numerical cross-references in the text above refer to resources in the Sources and Bibliography section of the Encyclopaedia of Brighton by Tim Carder.
The following resource(s) is quoted as a general source for the information above: {2,3,14,15,165,166}