First refuse disposal squads c1810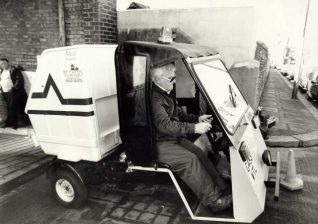 Please note that this text is an extract from a reference work written in 1990.  As a result, some of the content may not reflect recent research, changes and events.
147. REFUSE
Under the terms of the 1810 Brighton Town Act, the town commissioners appointed 'scavengers' to collect the town's domestic rubbish and night soil. This refuse was taken to the parish dust-yard on the northern side of Hollingdean Road where it was sorted, with any useful materials sold off, but the remaining waste was then tipped at other sites, creating a considerable health problem.
In May 1886 the corporation opened a 'dust destructor' on the Hollingdean site to incinerate the refuse to ashes which were then used as material for the construction of pavements, roads and playing-fields; this policy of incineration continued until 1952. After that date household refuse was tipped at Sheepcote Valley and the Hollingdean destructor therefore became redundant; the building was subsequently demolished and the area is now used by the borough council's Technical Services Department as a depot. Since 1974 refuse collection has been the responsibility of the borough council, but disposal is now the responsibility of East Sussex County Council. Major tipping at Sheepcote continued until April 1982, by which time the valley had been significantly filled and laid out with playing-fields, but since that time most of Brighton's refuse has been carted directly to the county council's chalk-pit infill site at Beddingham; Sheepcote remains a 'household waste site' for the disposal of bulky refuse. From January 1990 the street-cleaning services in Brighton have been run by the Spanish company FOCSA.
Any numerical cross-references in the text above refer to resources in the Sources and Bibliography section of the Encyclopaedia of Brighton by Tim Carder.