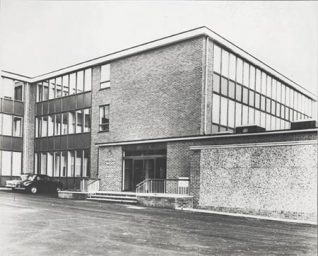 Reproduced courtesy of Royal Pavilion and Museums Brighton and Hove
Please note that this text is an extract from a reference work written in 1990.  As a result, some of the content may not reflect recent research, changes and events.

d) POST-WAR DEVELOPMENTS: The corporation undertaking was extended after the war by the acquisition of the Peacehaven Company (supplied from Saltdean , north of Looes Barn, 1922-49) in 1950, and by the amalgamation of the Lewes Company (founded 1833) in October 1958. Further development necessitated new supplies at Newmarket in 1957 and Sompting in 1963, while the older stations at Aldrington (1960), Mile Oak (1961), Patcham (1964), and Falmer (1967) were rebuilt. The Lewes Road source was reopened in 1957, and the Goldstone source in 1977. Droughts in 1976, 1989 and 1990 led to the development of further boreholes, and twenty-five sources are now on stream.
On 15 November 1967 a new headquarters building was formally opened on the site of the old Falmer pumping-station (incorporating a new electric station) to replace the offices and monitoring station at 12-13 Bond Street . By 1972 the Brighton undertaking, divided into seven pressure zones depending on elevation, was pumping some 18 million gallons per day to Brighton, and Falmer , Hove, Kingston near Lewes, Lancing, Lewes, Portslade, Pyecombe, St Ann (Without), Shoreham, South Malling (Without), Southwick and Telscombe, an area of about sixty-four square miles serviced by eleven pumping stations and thirty-two reservoirs. In 1974 however, the Brighton Corporation Waterworks Department was absorbed by the new Southern Water Authority following the 1973 Water Act, and the Falmer building is now one of the main district offices. In September 1989 Southern Water became a public limited company.
Of the Victorian and Edwardian pumping-stations only one now remains, the Goldstone works in Nevill Road, Hove. Despite the efforts of Brighton Corporation to demolish it in 1972 when pumping had ceased, the building was listed to prevent its destruction and was then restored, principally by Jonathan Minns. It reopened on Good Friday 1976 as the British Engineerium , a museum of industrial history with many exhibits including the Easton &  Anderson beam-engine of 1876. The boiler house, with its tall chimney, is flanked by two engine houses, and the building now forms the heart of a small conservation area.
Any numerical cross-references in the text above refer to resources in the Sources and Bibliography section of the Encyclopaedia of Brighton by Tim Carder.