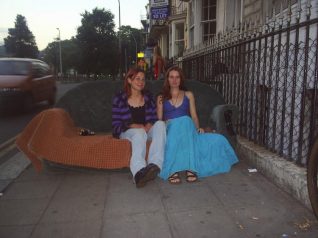 Where can you listen to jazz? What does a punk look like? Which scene wants to be in touch with the earth? Who is Miss Pain? How did the club Nightshade get its name?
Brighton is home to many different music scenes, which are a vehicle for self-expression. We have interviewed several people within the alternative scene, to find out about their experiences. Tour through our pages to explore the section and read the interviews.
So what's alternative in Brighton?
Because Brighton is so open, it's easy for people to fuse different kinds of music in their lives, and cross over into different scenes. For some people we spoke to, the way of dressing is as important as the music, while for others the music is the main thing.
People who are from other places sometimes find that their style has less of an impact in Brighton, and it's more difficult to be seen as alternative. At the same time, people enjoy the feeling of community that Brighton provides. Another common observation is that Brighton's club scene is ageless and also gives space for both men and women to express themselves without being tied to society's expectations.
Punk in Sweden and trance in South Africa
Louise was into rock and punk when she lived in Sweden, and when she came to Brighton she got more into goth. Morgan was involved in the goth and psychedelic trance scenes in South Africa and now supports the trance scene in Brighton. For both of us, music has been a way of connecting both with other people and ourselves.
"Brighton is a good place to move to because you can freely experiment with different styles without being judged or limited."
How you can contribute
Would you like to tell us about your scene? So far we have only explored a small part of the rich music culture that Brighton has to offer. So we would like to invite you to add your own memories and photographs. Were you into the mod scene in the 60's or are you into hip hop today? Do you know a techno chick or is your old man a rockability freak? If you would like to find out how you can contribute to this exciting new section – contact Louise and Morgan at sceneandheard@mybrightonandhove.org.uk