Mr Twist - The punk scene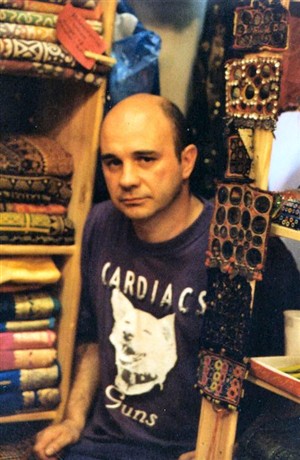 The early days
Mr Twist describes the punk scene as "the thing that moulded me as the person I am. It was probably one of the most important things that ever happened to me." Laughing, he adds: "I know I don't look…like a punk, but it's still there."
Mr Twist dates his punk involvement from the early age of thirteen, the age where he was "acceptable to new things." The rebellious element of punk is a central part of his story; he describes his mother's habit of walking on the other side of the road whenever she saw him. On the other hand, when his punk band began to appear in the local newspapers, his mother was only too happy to show them to the neighbours!
The original punk style of dress was 'do it yourself' and inventive. Nowadays, he characterises the punk dress style as less creative, as modern 'punks' buy their clothes instead of making them.
Punk's reputation as violent and anti-social was, according to Mr Twist, a mis-representation by the media. "I must have been to over two hundred punk gigs, and I must have seen three fights. You go to a football game and you'll see a lot more than that."
Varied musical career
Mr Twist himself has had a long and varied musical career. He has been in around twelve different bands, but tried to make each band 'progressive punk'. His band organisation also reflects the ethos of punk: "I try and make the bands like there isn't a leader… trying to make people equal…the punk thing, it was about being equal."
Mr Twist grew up in High Wycombe, which was a "really good place to be in that time" in terms of the music scene, and particularly punk. Although punk originated in the slums around London, High Wycombe was host to gigs by Sex Pistols, Stranglers and Clash gigs. "It wouldn't be strange to see a hundred punks walking down there altogether, and that was really exciting ….I suppose it is because it was like having your own really big family, and everybody in that family liked the same things you did."
Dissapointing music scene
Arriving in Brighton eight years ago, Mr Twist expected to find a burgeoning music scene, but was disappointed. "Everywhere I looked there was just clubs and dance music, and it just crushed me. And I didn't do music for the first time in my life for a year…"
But eventually the call of music could no longer be ignored, and he began to form bands again. His current band, Flinch, is "a mixture of rock, funk and punk with a little bit of Frank Zappa thrown in". Some of the venues where Mr Twist has played are Pressure Point on Richmond Place, Pavilion Tavern, and Hobgoblin's on London Road. But he describes Brightonians as "a very difficult audience".
However, Mr Twist is quick to add that "I do love Brighton. I like its diversity, I like that I could put a dress on and walk down the street and it wouldn't be a problem…"
Fusion
He describes Brighton as exhibiting many fusions in style: "There is an overlap with the punk, the rock and goth scene…it seems to have all merged into one. People walk down the road with zip trousers on and a Sisters of Mercy T-shirt, sort of mixing and matching things…So I think the fashions have got all mixed up, but I think the music's have got all mixed up too which is a good thing." Despite his conviction that bands like Blink 182 and Busted in no way represent punk, he does see encouraging signs amongst young people today.
It 'raises his heart' to see young kids of eleven dressed up in punk gear – "Cos it means they're not going to clubs or listening to dance music, they're thinking about picking up real instruments…it keeps them from running around on the streets, not doing anything."
Mr Twist is still an avid follower of the punk music scene: "Whenever an old punk band gets together I try to go and see them, just for nostalgia really…"
Freely acknowledging punk's transitory nature, Mr Twist adds this revealing comment: 'Punk only existed for about six months…Because punk wasn't just about the music. Punk was a bigger thing…it wasn't supposed to last forever.'