Jackie - The Hungry Years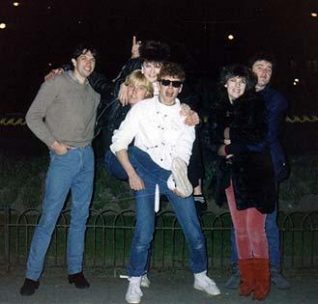 Photo from a private collection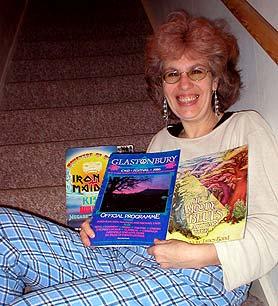 Photo by Louise Halvardsson
Not just a phase
"I guess I saw myself through the music scene. It was like what I did for my job."
Jackie, originally from Cheltenham first got into rock music when she was about eleven through her friend's older brother. Her mum thought it was just a phase she was going through, but it wasn't at all. Even if she's not clubbing anymore, she still keeps all her records in her bedroom. They are in alphabetical order and varies from AC/DC to her first love the Moody Blues.
No cattle market
What brought Jackie to Brighton in 1985 was a rock club. At the time she was in her late twenties and worked in a hotel near Crawley. There she met some friends who used to go to the Hungry Years. Jackie tells the story of how she eventually left the hotel and moved to Brighton.
"I didn't know anyone, but I had the Hungry Years. I used to go down there on my own, but I felt comfortable. I would have been scared to go to a disco on my own, but not to the Years. It was no cattle market. The boys went there to dance as
much as the girls did. It was very much a family atmosphere."
Mid 80's
The thing about the mid 80's was that the males looked more glamours than the females. Jackie describes the boys wearing closely fitted spandex trousers with a piece of material tied round the knees. And of course there was the long hair.
"On the dance floor you could get an eye full of somebody else's hair and it hurt!"
About this time the rock club in Cheltenham had closed down and Jackie felt that Brighton was the place to be. She likes the fact that everybody knew each other. Most of them were bikers, but also punks and goths went to the Hungry Years. The place was run by a Cypriot couple called John and Pepa.
"Pepa, the wife used to throw great big burly guys out." Jackie remembers. "But there were never any fights."
Funeral on bike
One event that Jackie will never forget is the funeral of a guy called Spider. He was killed in a motor bike accident and many people from the Hungry Years turned up at his funeral at Woodvale Cemetery. Loads and loads of bikes were leading the hearse. "It was a sea of denim, studs and leather jackets."
Jackie points out that she has always felt safe around the rockers and bikers. For her rock is very little about aggression. "It's something loud, exciting, colourful and wonderful!"