Ryan - Brighton's tight-knit trance scene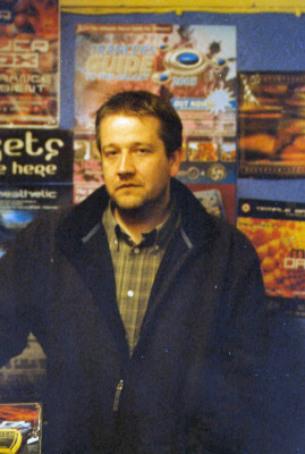 Ajuca Box
Ryan Ajuca owns the Ajuca Box store, and has managed several record labels, including Ajuca Records, since the early 1990's. Ajuca Box is located at the back of 'Solar' in Sydney Street, the North Laine, and is Brighton's only trance music outlet. Ryan also organizes trance parties at venues in Brighton to promote Ajuca. Ryan first became involved in trance in 1992: "It just took me away from anything I'd ever heard in my life…it was the most colourful thing I've ever experienced…it was beautiful."
Discovering trance
Before the discovery of trance, Ryan was into 'electro' music, following bands like New order, Erasure, and Pet Shop Boys. After that he got into acid house and then hardcore.
The turning point came when he heard the likes of Dino Psaris and Joti Sidihu, and formed a link to Koyote Records. Dino Psaris, an established trance d.j., took Ryan to one of the first parties in England: "some of the really top names from back then, they were all playing there… I've never heard music make my mind hear and believe such nice sounds."
Some of the most happening spots for trance across the globe are Brazil, Mexico, Japan, Australia and South Africa. Being in England, he does sometimes feel cut off from this, but on the other hand, Ryan feels that England is a good base and earns one recognition as a music promoter.
Diversity
As the public awareness of trance is increasing, more and more people seem to be finding out about Ajuca Box and Ajuca Records. Still, although Ryan's origins are psychedelic trance, he is aware of the need to "digress" into other kinds of music, in order to appeal to more Brighton music-buyers. He doesn't believe in "pigeonholing" music style, and is all for diversity of genre.
What kind of people are drawn to trance? On the whole, "a mixed bag". The age of "trancers" is also varied: "you can have from 17 to 18 year olds up to 55, 60 year olds."
Ryan is aware that people "on the outside" of the trance scene don't always understand it: "A lot of people criticise because they don't understand it… A lot of them look in and they see the pretty colours, and they see us all in like weird hair and braided dreadlocks…At the end of the day, it doesn't matter what you look like, you've all got the same desires inside you and you can all have a good time together."
Close community
Although Brighton has a "tight-knit scene" and a close "small community", Ryan is encouraged to see newcomers to trance coming into his shop on a more regular basis. "When it becomes your daily job you tend to lose the buzz a bit, but when you see the people that are new to it, who come to Brighton… that's why I feel with the shop I can make a good go of it."
The future of trance
When it comes to the future of trance, Ryan has this to say: "I think music works in a 10 year cycle, and I think it's trance time…. its just gonna get bigger and bigger". He feels trance is going in many different directions, but "if it can get up to the level it was four or five years ago, then…it is the most ultimate experience in the scene to be involved in".
However, there is a danger of the purity of trance becoming diluted as the "corporate element" becomes stronger and the music becomes more commercial.
Ryan quotes a magazine called 'Trancer's guide to the galaxy': "'This is how it went with every music culture; you can't reserve the status quo, either something evolves and grows or it will eventually die."