Pack & Sons: Sussex Coach Works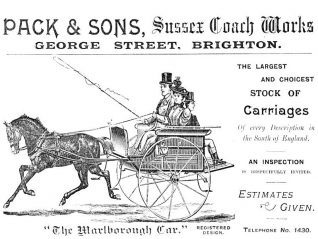 From the private collection of Andy Grant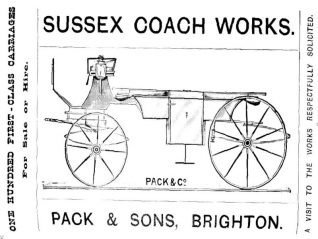 From the private collection of Andy Grant
Moved to Brighton from London
Around about 1880, Job Pack moved his existing London based coach building business to Brighton, taking over the premises at 40-43, George Street previously operated by George White. At that time the company employed twenty-two men and Job Pack lived on the premises.
Largest stock of carriages
In later years the company became Pack & Sons, the Sussex Coach Works, with adverts boasting "the Largest and Choicest Stock of Carriages of Every Description in the South East". By the 1890s Job had expanded the premises into Dorset Street and bought a large house in Ditchling Rise.
Diversified into motor repairs
Upon his death in 1898, his sons Arthur and James took on the mantle of operating the business. With the coming of the automobile, the company diversified into motor repairs and carrying, but by the end of the First World War they had ceased to trade in Brighton.