First weekly wage £2.6s.6d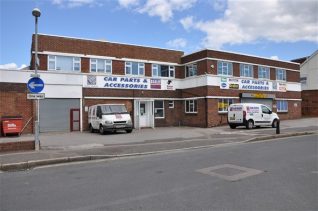 Starting work at 15
I began my working life, aged just over 15 years, when I joined MB Metals on Thursday 2nd April 1964, having left school at Easter, as you were then able to do if you were 15 before 1st February. I started work as a probationer in an assembly shop on the 1st floor of the Vale Works, prior to becoming an indentured engineering apprentice on 1st January 1965. I had aspirations of becoming a Tool Maker as they earned around £20 – £21 a week, a very good wage at that time. I signed the indenture papers one evening after work, with both of my parents present and my father was asked to pay the 10s – 0d (50p) stamp duty/registration fee, which he was not expecting.
Weekly wage £2.6s.6d
I imagine I must have been one of the very last people in the country who left school at 15, with no GCE's, yet was able to become an engineering apprentice and be accepted at Brighton Technical College on their day release ONC course. My first weekly wage packet, for a 44 hour working week, was £2 – 6s – 6d (£2 – 32½p), paid in cash every Thursday. One of the older men in the assembly rooms would greet us all every morning with a very mournful; "Roll on ha' past five". Not particularly encouraging for a 15 year old who was excited at the prospect of starting work and earning some money of his own. I am now 63 and say to myself most mornings; "Roll on ha' past four".
Joke on a fellow worker
In the September of 1964 I was transferred to a small machine shop on the ground floor of the Vale Road building where the foreman, Jim Saunders, was thought to be involved with the British Communist Party. I remember him as a kind man who drove a Reliant three wheeler. A week or so after he traded it in for a brand new one, a couple of us jacked the new one up (actually we lifted it up!) and put some bricks under the rear axle. It took Jim ages to realise why he didn't move each time after he had repeatedly made sure he was in gear and carefully let the clutch out, while the two of us laughed hysterically from a suitable hiding place. He must have known who did it, but never mentioned the incident at work afterwards.
Remembering old workmates
A short time after I joined the machine shop the national engineering employee's working week was reduced to 40 hours. The Vale Road works manager at that time was Reg Phillips (no relation) and his boss was Bill Merritt, who oversaw the Wellington Road factory as well. The only other names I remember from my time in the machine shop are; Kay something, the receptionist/nurse/secretary; Geoff Hazledean (a general machinist who to me was really experienced even though at the time he was just 23 years old); Allan Clarke (another general machinist whose nylon socks I would one day melt with my lighter whilst they were still on his feet); Wally who was a grinding specialist.
Remembering other trainees
The trainees I remember are Julian Nicholas, Peregrine Saul (a rocker who rode a 200cc Triumph Tiger Cub and had a Dalek outlined in studs on the back of his leather jacket) and Colin Pronger from Southwick, with whom I became quite good friends. It transpired that all of our parents already knew each other from their younger days. Sadly, I lost touch with Colin after I left MB Metals but I did hear that he'd joined the police force some time later, and that later still he may have moved to Singapore. In total I served around 15 months in the Vale Road machine shop before transferring for a 6 month stint in the Tool Room at the Wellington Road factory.