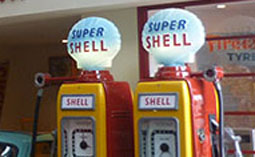 From the private collection of J. Drury
My mentor was a super guy
I served an apprenticeship, and worked as a mechanic at Moore's from 1962 to 1968. My mentor was Charlie Bowley, what a guy. Some of the other mechanics were Sid Blake, Reg Winterbourne, Rue Egler and Brian Wenham. Some of the other apprentices were: John Berry, Ray Phillps, (paintshop under Jock ?), Mike Scott (Rolls-Royce), John Bailey, Roy Spencer(electrician). The Triumph foreman was Ginger Lovejoy, he was a super guy.
Working on the Jags and Daimlers
The owner Bill Cannell had a farm at the back of Brighton, and whenever any of the tractors or equipment needed repair, Charlie would take me with him to the farm for the day. I later worked on the Jags, and finally ended up doing the Jags and Daimlers, I also did the funeral cars and hearses, I can't remember the name of the guy I took over from, but I remember he was always smoking his pipe. This part of the shop I worked with Nigel May, Rob Oram, Gord Tugwell was the foreman, and Fred Thomsett was the manager, he later moved to a teaching place in Lancing and Ray Pope took his place.
 Disaster with an E-Type Jag
I remember one apprentice drove a new E Type nose first into a pit. John Bampton was the grease bay tech, he won the Second World War almost by himself. Sorry to those whose names I currently can't remember, but who can forget the two beauties in the upper office, Linda Haden and Jill Parsons. Moores was the greatest place to work, and had the best people to work for and with. Unfortunately you do not realize how great people and places are until you are no longer with them.
A works football team
I consider my time at Moore's to be the best time of my life. I remember we formed a football team and joined a league, we played for two or three years I think, one guy was the partsman, a scot, he was a great footballer, I think he had a try out for one of the major 1st div. Scottish teams. I have recently had some contact with John Berry and Nigel May, but as I now reside in Canada I have not seen anybody for many years