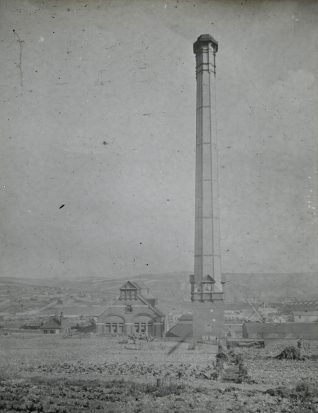 Royal Pavilion and Museums Brighton & Hove
Recycling is very much a buzz word at the present time, but you may be forgiven for being unaware that in Victorian Brighton, the council already operated an early system of recycling in Hollingdean. At that time Hollingdean verged on the surrounding countryside, and so was a suitable area for services that might otherwise cause nuisance in a residential environment.
Dust Destructor built in 1895
In the 1890s Hollingdean was the site of the Abattoir, with its attendant noise and unpleasant smells. Being at the top of the hill, the area also provided commercial laundries the ideal spot for their large drying fields. It was also the site of the council Dust Yard, and in 1895 The Dust Destructor was built there. Built to the latest designs, with originally a 220 foot high brick chimney to direct the smoke away and up the hill, it comprised a massive furnace to burn anything combustible. It processed 'Household Dust' and domestic waste which had been previously sorted and separated for recycling purposes.
Horse and cart collection
In the Dust Yard system of the Victorian era, household waste was collected by horse and cart. The 'dust' was mainly coal ash which was separated manually from other rubbish. It had commercial value when the 'soil' as it was called, was sold to brick makers and to farmers as manure. The rubbish collected was widely recycled: tins were melted down and formed into other metal objects; rags were made into paper; string was sent to mat-makers; bones to glue makers, and 'soft stuff' could be used as manure.
The 'dust' men and women employed to perform the dreadful tasks of manually sorting the waste, worked in terrible conditions in all weathers. To this day refuse collectors are often referred to as 'dustmen'.