The Southern Counties Princess Laundry Company Ltd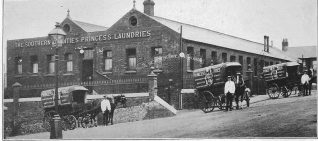 Taken from the book "Brighton & Hove in the Coronation Year of His Majesty King George V," copy owned by Peter Groves
It seems that up until the 1970s there were a number of laundries in the areas both north and south of Elm Grove.  The Southern Counties Princess Laundry must have been one of the biggest in the locality, as it covered a large area at the top of Whippingham Street and the corners of the two adjacent roads; Shanklin Road and Bembridge Street.
Founded c. 1880
According to my book "Brighton & Hove in the Coronation Year of His Majesty King George V" it was established over thirty years ago, which means it was founded around 1880, perhaps a little before.  Commanding a position of rare importance among the industries of Brighton & Hove, it strikingly reflects the wonderful progress in scientific methods in our time.  Using the most approved hygienic principles, and abundantly meriting ever increasing patronage, it is justly acclaimed as indispensable to the community.  Articles are washed in crystal clear water drawn from the Company's own well, and being situated in the most healthy part of town, where the sun and pure air ensure the goods are returned fresh and clean.
Much Esteemed Townsman
The splendidly equipped works employed over 100 people, and probably most came from the surrounding poorer area of town.  In 1911 the Chairman was the much esteemed townsman Mr. T. Homer Saunders and the  Works Manager was Mr. F. Goodchild.    The office in connection with the works was 24 Whippingham Street, however the factory address appears the have been 46 Whippingham Street.  The Company also had three receiving offices; 27 Trafalgar Street, 20 Prince Albert Street and 130 Western Road.
Demolition?
It's a shame about the scaffolding in my March 2020 photo, I went back hoping it had been removed, but it was still there, apologies.  I wonder when the old building was knocked down, judging by the design of the new flats I would guess early 1980′ but I'm sure there will be plenty of mybrightonandhove readers who lived in that area and will know?