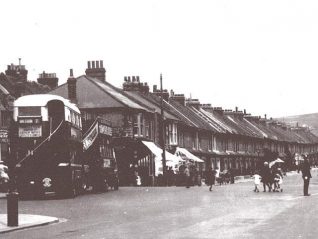 From a private collection
When I was about 11 or 12 years old, I earned quite a lot of money from my Saturday jobs. Each Saturday I would rise about 5.30 and go to Nash's newsagents at the bottom of Whitehawk Road and start off doing 2 morning paper rounds. Then I would go home and have breakfast.
Working for the butcher
After breakfast, I'd make my way to the top of Maresfield Road to meet the butcher with his van from Islingword Street. He would hand over a large pram type barrow loaded with 15-20 parcels of meat and I would go down Race Hill and deliver to Whitehawk addresses. When I'd finished, I'd meet up with him and hand over the money and the barrow.
Working for the baker
After that, I would then make my way down to the bottom of Church Place, to the bakery shop called Glaston's – they always made bread for 3 times of the day. For the morning bread round with a bike and a basket, I would cycle along Eastern Road to Abbey Road – I remember delivering to Abbey House where the family who owned Kemptown Brewery lived.
My paper round
Then I would return home and go to the afternoon cinema – the Kings Cliff, (which later became the Continental) in Sudeley Street. After the cinema I would do the tea bread round. After that I then went on to the paper shop to do the 2 evening paper rounds and then go home and have tea and then I'd go and do the babysitting at 8.00. If I finished before midnight I'd get 2/6, if after it was 3/6.
Working full time at 14
When I was 14 I went to work at John Eade Butts joinery works in Trafalgar Lane for 19/7½d a week. When I got my pay rise of 1/- per week, that was 12 pennies which equated to one farthing per hour in a 48 hour week. Whereas when I was still at school, I was earning 2-3 pounds a week. I'd already saved up £250 by the age of 14. I could have bought myself 2 3-bedroomed houses for £125 each.