Making friends with other lone parents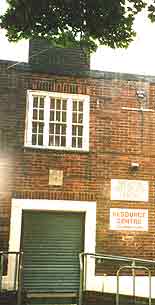 From a private collection
I started going to Brighton Unemployed Centre Families Project when my child was one year old. I was a single parent living on benefit and a friend told me that they ran a yoga class with a free creche in the morning. I discovered they also had a cafe that served an inexpensive vegetarian lunch with child's portion for 30p.
My child loved the creche and I valued the low cost opportunity to do something for myself, while she also had a good time in the same building – so I had no concerns about her welfare. It was also an opportunity to make friends with other single parents, some of whom are still close friends 13 years later!
The creche was staffed mostly by volunteers. I soon decided to volunteer one session a week – to put something back – and got free training in childcare and related subjects, with a guaranteed creche place for my child. I continued to work as a volunteer in the creche after my child started school, because it was something for me and after 2 more years I got paid work, a major factor being that I had gained experience and training through volunteering at BUCFP. I now work full-time, but still try to pop into BUCFP at lunchtime once a month to catch up with friends and enjoy a tasty meal.