Helping the homeless back to work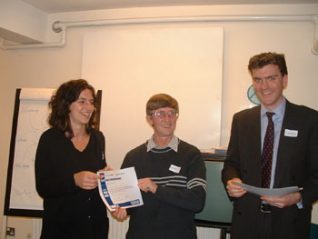 Photo from a private collection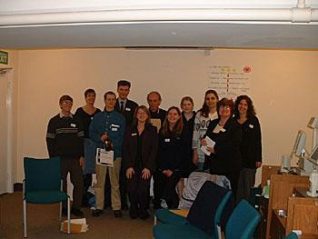 Photo from a private collection
I started a couple of years ago working for an organisation called Business Community Partnership (BCP) and basically what they do is that they work with businesses in the local community to get them engaged in community activity. I was working on something called Community Mark, which is about giving businesses a kitemark for their community involvement. So it's about getting them to a standard that they are saying that they are doing so much in the community that they should have a kitemark. Everybody can then recognise them for that.

Working at grass roots level
My main skills are project management so I set that up and then was asked if I could get involved in this, as it's a new scheme that's come to Brighton. So, that's where my skills come from.
From my perspective, when I was working with BCP before, I was working with businesses, which was fantastic, but I didn't get any grass roots involvement because it was all about advising them on the best way to run their programmes rather being involved in running a programme myself.
At the moment what I love about this particular job is that I get to do everything really: I get to work with public sector, I get to meet all new kinds of people and am able to get an overview of the whole thing. Plus I think homelessness, as an issue, is a really fantastic thing to be working on and seeing the successes of it is just amazing, really.
From strength to strength
At the moment we've only got three businesses on board because what we've been doing is building: Marks and Spencer were involved nationally so I worked with them locally. But one of the problems we've had is recruiting and getting people involved in it. Because it's a new initiative, people are nervous of it. I think actually a lot of key workers are nervous of it, whether they should tell people to go on it until they know what it's really going to be like, so we haven't been recruiting new businesses until we get the numbers of participants up. Then we got Integra on board for the second programme and the Grand Hotel involved in the third one. On the third programme, we got ten people come forward for it (well, eighteen originally, but ten started up), which is fantastic.
So, in October, on our next programme, what I'm now looking at doing is getting a lot more businesses involved. That's where the work that I was doing previously comes into play because there's a group of over thirty businesses, all with Community Mark, that would maybe be looking to get involved in something like this. So I can go back and say to them: "How about getting involved in this scheme now?"
It has proved very successful.
My main skill is project management: I like getting involved in things at the start, setting them up. I'm not a long-term stayer on things – I used to get quite frustrated with myself in jobs when, after a year or so, I'd want to move on. That was until I realised that my skill is setting things up and, after they are set up, I pass them on to somebody else to do. So that's what I did with Community Mark and that's what I'm going to do with this as well – get it set up so that it's an established scheme with a number of businesses involved.