Gay switchboard: a brief history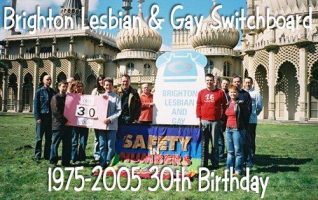 Photo from Brighton Lesbian and Gay Switchboard
In 2005 Brighton Lesbian and Gay Switchboard celebrated a very important event – their 30th birthday. The organisation is one of the oldest Brighton-only charities, and is certainly the oldest lesbian and gay organisation in the city.
Beginnings and the growth of a network
It was on April 26th 1975 that the Switchboard took its first call, from a room in a Brighton cafe. The service was launched by four men and two women and was initially known as 'The Lavender Line'. This rather innocuous title was used so callers would not have to announce their sexuality.
Over the years the Switchboard has provided vital support to the city's gay community, offering help with issues ranging from health to accommodation. In the late 1990's a service was launched which aimed to offer individuals low cost counselling. Currently, this service helps over 150 people a year and has ten counsellors and one administrator.
Switchboard today
Today Switchboard provides a help line, an email help service and a Minicom facility. They deal with over 5,000 calls per year. Switchboard is entirely manned by ordinary gay men and lesbian women volunteers who lend a friendly ear and keep people in touch, whatever their need.