Kemp Street: Scene of a grisly murder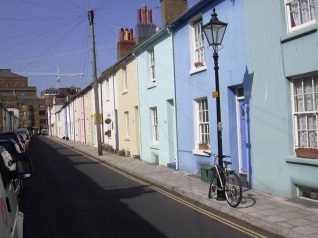 If you wandered down Kemp Street today, a tranquil little street in the heart of the North Laine, murder would most likely be the furthest thing from your mind. Yet just over 70 years ago a most unusual murder was linked to this very street. In the early morning of the 16th July, the complete corpse of a woman was discovered in a trunk in a house in Kemp Street. The Daily Express had been given a tip off which they had reported to the police.
Violet Saunders dead
When the house at 52 Kemp Street was searched, a body, described by the Express as that of a professional toe dancer known as Violet Kaye, was found. Violet, whose full name was actually Violet Saunders, was 42 years old when she died and said to be quite attractive. She had been living in a basement flat in this street, which is near to the Lewes Road. The killing was achieved by a severe blow to the head, the body left to rot in a trunk.
A letter found
Dancer Violet toured the country in revue shows, and was said, by neighbours who were questioned by the police, to have been on her way to an engagement in France. Violet was the eldest of 16 children and when she was killed, a letter was found addressed to her mother who she had not seen for several years. It told of her recent divorce and re-marriage.
An arrest is made
Tony Mancini, a friend of Violet's, was soon arrested for the murder but claimed that he had found Violet dead on his bed at 44 Park Crescent, and, in a state of panic, had taken the body to Kemp Street. Mancini was put on trial but found not guilty.
Several years ago, I interviewed a local resident who had met Mancini in the 1930s whilst she herself was with a touring circus. She claimed that Mancini had told her he committed the crime. Indeed, in a newspaper article in 1976 Mancini did confess to the murder.
Former industrial usages still to be seen
Today Kemp Street is an attractive street of small terraced houses built in the 1840s, but on closer inspection the former industrial usage of some of the properties can be clearly seen. Number 34 has an original sign still visible, which reveals that in one of its former incarnations it was used as a warehouse or butchers for Argentinean frozen meat. Next door at number 35 a sign for Evening News is clearly visible. Such properties would have had many uses during their lifetimes. 100 years ago number 34 was the Camden Arms whilst 35 was a van works. Opposite them at number 29 was another pub, the Blue Anchor. A further 30 years before then, in 1869, 35 was in use as a corn and coal merchant with numbers 29 and 34 existing as pubs.