Sixties chick and a 'Bubble'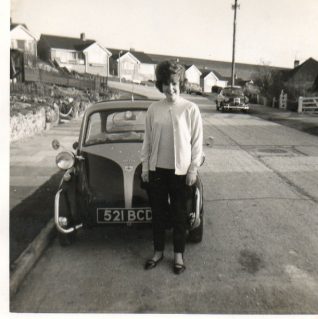 From the personal collection of Christopher Wrapson:click on image to open a large version in a new window
Manufactured in Brighton
The photograph here was taken outside my parent's house at Saltdean in the Spring of 1963. The sixties chick is now my good lady wife. The BMW Isetta Bubble car was manufactured in the old locomotive sheds at Brighton Station between 1957/1964. The Isetta in the photograph was new in 1960; it was one of a pair purchased by Tommy Sopwith who owned Endeavour Motor Company. He mainly used the little cars around town, or to commute between the EMC showrooms in Preston Road and Shoreham airport, where his helicopter was based.                                                                 
Equipe Endeavour
Tommy Sopwith was well known in motor sport circles he successfully ran the Equipe Endeavour racing stable for the 1958/1962 seasons. Power boat racing also attracted his interest. Most of the Equipe Endeavour fleet of sports cars including the Isettas and the racing car transporters were painted in a distinctive Jaguar indigo blue and silver livery; also most vehicles carried EE 400 series registration numbers.                               
Driver's club badge
I worked for Endeavour Motor Company at that time, and purchased the Isetta in 1963; it was my first car albeit one step up from a motorbike. The cars EE registration plate was not included in the sale and I was issued with a new Brighton registration plate – 521 BCD.  With less than 3,000 miles on the clock it looked and felt like a new car. The car came complete with Tommy Sopwith`s British racing drivers club badge on the front. He had given me strict instructions to remove it on taking delivery.  A bit naughty I know but I never did.                                                    
Fond memories
The smart Isetta attracted attention where ever we went.  We often think about the little car and the fun we had, and wonder what became of it. The 'Bubble' certainly left us with lots of fond memories and it is also nice to think the Isetta bubble car is a small reminder of Brighton's once proud industrial past.