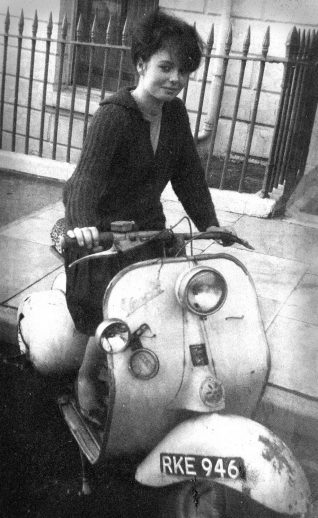 My scooter craze
The craze for scooters started in 1961 for me when I was in my last few months of school. I attended Fawcett School opposite St Peter's church, when I bought a 1951 Vespa from a fellow student. As you can see from the photograph here, it was in a rather 'worn' condition, but it went fairly well.  I simply loved the freedom it offered me and rode it all the time. I rode it to school for the last few months I was there and parked it in the entrance just behind the iron gates opposite St Peter's church. When I left school, I went to work at Machinery Publishing Company and my Vespa went with me.
Cruising to London on Saturdays
Eventually I replaced it with a Vespa 150 GS and joined in with other groups of scooter boys. The crowd I went around with never wanted to join in fights or anything like that, and in fact we would cruise up to London on Saturday afternoons when I finished work. Saturday morning was a compulsory workday at that time. We used to ride to London and wave at all the mods on scooters riding down to Brighton from London.
Mod fashion of the time
The popular style then was a black French type beret and a see through plastic mac from 'Woolies' to protect our posh made to measure suits. We spent the night mainly in a disco called The Scene which was in Soho, opposite the old Windmill Theatre. It was a murky smoky basement club which was great, but it closed about 4.00am and then we used to sleep for a few hours flat out on the seats of our scooters before the mass cruise back down to Brighton. My biggest regret now seems to be that I have no photos of my 150GS or any of the good times I shared in.
An era of freedom
The picture shows my early Vespa, with my girl friend at the time, Rose. The picture was taken in 1961 outside my basement flat in Belgrave Place, Kemp Town. Though I have lots of memories of the 'mods and rockers wars' in Brighton, I never got into trouble as a scooter rider. It just seemed a great time full of freedom and fun in an era when the freedom of the road meant just that.
Do you remember?
Were you a Mod in the 1960s? Did you have a scooter? What about those sharp suits – did you have one? Or maybe your boyfriend had a scooter? If you can share your memories of this time – please leave a comment below.