The perils of a new dress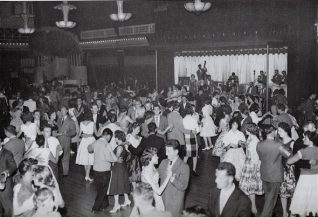 From the private collection of Harry Atkins
For a special occasion
Delia's, or maybe 'Delia Day', was a ladies fashion shop in North Street, a few doors down from the side exit door of the Regent Ballroom.  One day, there in the window of Delia's, was a cute little dress right on the front model. Grey tweed cloth, short  sleeves, round neck, fitted till below the bottom then pleated to flare till just above the knee and only costing 19s-11d, (one penny short of a pound). I had not long started work and as an apprentice window dresser aged 15 and received only £2.10.00, (two pounds ten shillings), a week. The dress was quite a big expense, but Thursday night at the Regent Ballroom was looming and it was a special dance night, 'Valentine's Day' perhaps.
Bouffant hair and glamorising
The dress was quite sophisticated but fun, elegant, demure, and, fitted like a glove.  I took the plunge, paid and rushed home. After tea, with a fresh lick of make-up and a quick change into my new dress I felt very grown up.  I trotted off to call for my two girlfriends before catching the bus out of Hollingbury to town for our great dance night. I walked from Rotherfield  Crescent  down to Carden Hill where my friends would be waiting for me. We would spend some time checking out our hair styles together. Mine was bouffant, Helen Shapiro style. All this 'glamorising' would take place in my friend's tiny bedroom listening to the sultry tones of Elvis crooning to his leading lady in 'GI Blues'.
Every girl's nightmare
The story is quite good so far but on arrival at my friend's house, she opened the door and my jaw dropped. There she stood in MY dress. I could not believe my eyes. She had spotted the dress, like me, in the front window of Delia's and decided this was what she wanted for our special night. Oh Horror! What was to be done? Neither of us wanted to change and if we did what would we change into now? There was no other choice but to go out looking like twins and feeling not quite as special as when I'd left my house. What is even worse is that the three of us spent most of the evening dancing with each other. I wonder how funny that looked. Two girls wearing the same dress and dancing together!