Junior Clerk in a new suit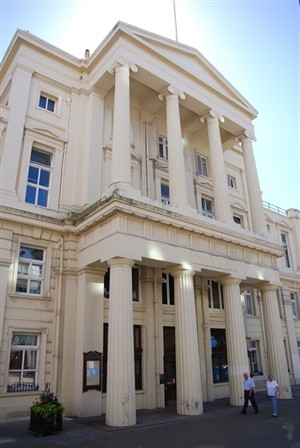 ©Tony Mould: all images copyrighted
New suit for £9
In the mid 1960s, I was a junior clerk in Brighton Town Hall. The prospect of doing this was exciting and I bought a new suit at Burton's for £9. it is odd to think that you can still buy a suit, for a little more than this, in Asda. My first role was as a registry clerk. I then became a junior clerk in the Main Office.
Hierarchy of the carpet
The office was ruled by the Chief Clerk, who worked at a big desk that sat on a square of carpet – the only carpet in the office. I later learned that the size of desk and the carpet were signs of where you stood (or sat) in the hierarchy. All the other desks faced towards the Chief Clerk's.  He was a slightly smug man, who sometimes seemed to take on a headmaster role, "Get on with your work, Mr Burnard and a little less chatting."
Tea and biscuits for elevenses
Every morning, at 11am, a tray was brought by the lady who made the tea. On it was cup of tea and two Chocolate Bath Olivers. This tray was then taken by the Chief Clerk into the inner sanctum of the Town Clerk's office. Presumably, the lady who made the tea, or the junior clerks, were far too far down the pecking order to be able to handle the tray. We never saw Mr W.O. Dodd, the Town Clerk although his name was posted all over Brighton, e.g. 'Keep off the Grass: W.O. Dodd, Town Clerk.', 'No Parking: W.O. Dodd, Town Clerk.'
Do you remember any of your early jobs? Please share your memories by posting below
The Committee Clerk
The person I felt most sorry for was the Committee Clerk.  He was the one who took the minutes for all the important meetings in the Town Hall. He rushed back from them and busily wrote them up. He seemed to do a lot of (real) cutting a pasting, from other minutes and he always seem to be trying to catch up with himself. I vowed, then, that I would never be a Committee Clerk. Although I have since held a number of senior academic positions in a university, I realise, with relief, that I have never had to take minutes, for any meeting at all.  
Departing with relief
For me, at the Town Hall, it all ended in tears. I finally got to see Mr Dodd, who told me I was not up to my job. He told me to resign or get sacked. I chose to resign and I think I felt some relief. Office work has never been high on the list of jobs I would like to do.