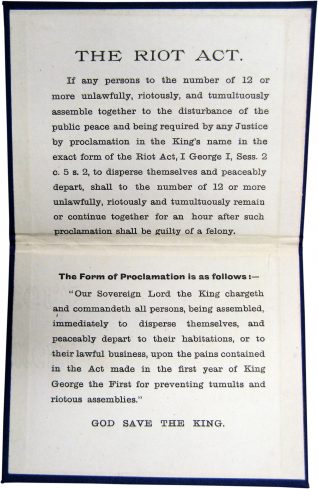 Text is available under the Creative Commons Attribution-ShareAlike License
Mods and Rockers
In the mid sixties, in Brighton there were a couple of weekends on which there were serious fights between Mods and Rockers. In order to try to contain these riots, the police herded Mods on to one beach and Rockers to another. As I recall, this arrangement did not work all that well, as the rival factions just threw deck chairs and other objects at each other from one beach to the other. 
Reading the Riot Act
I remember one of days of the rioting is that the chief of police 'read the Riot Act', and this he did at the corner of Marine Parade and the Aquarium building. The problem is that I have had no luck in confirming this and wonder if other readers could remember it. It sounds like the sort of thing that would have been done in those circumstances. The Act allowed:…"authorized local authorities to declare any group of twelve or more people to be unlawfully assembled, and thus have to disperse or face punitive action". The act was triggered by the reading of it by a senior police officer; it was repealed in 1973.
Did your parents threaten to 'read the riot act' to you? Please share your memories by posting below. 
Common usage 
The act passed into common usage as a means of parents controlling their children. I well remember my mother saying things such as; 'I you are in too late, I will be reading the Riot Act'.  Whether or not this was an effective intervention, I cannot remember; my guess is that it was not. I think the phrase was also used, by teachers, at Fawcett School. After the Act's appeal in 1973, the phrase seemed to have fallen out of use. 
Do you remember?
I wonder if anyone remembers the 'Riot Act' being read. If you do, I would really like to hear your experiences.