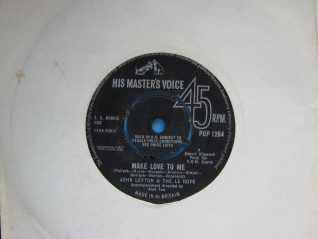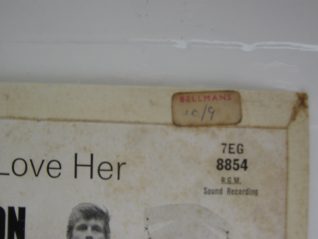 Our first record player
It was in 1964 that my dear old Nan bought the family's first record player, as with most people it was a 'Dansette'. I can still remember to this day the excitement of having our first record player. The Beatles were and still are my favourite group, but luckily I had an older sister and brother who covered that department and bought their records. This left me to concentrate on my favourites of the time. The first single record I ever bought was 'Make Love to Me' by John Leyton. It cost me 6s 8d and I bought it in John Beal's record department in East Street.
Mad on music
I have always been a fan of John Leyton and used to enjoy seeing him in films such as 'The Great Escape' and 'Everyday's a Holiday' I thought his singing was fabulous. I also bought the EP 'Tell Laura I Love Her' by John Leyton and you can clearly see the 'Bellmans' sticker showing that it cost me 10s 9d. I was mad on music and used to save all my pocket money up to buy records. There were loads of record shops in Brighton, but Bellmans seemed to be the one where most people remember buying their first disc.
Watching the records go round
I remember one day we took a trip on the bus to Lewes and there was a cute little record shop just by the railway bridge on the Cliffe High Street, where I bought 'Boy's Cry' by Eden Kane. It was a nice era for music, no videos then of course. We used to gather round the Dansette and watch the records as they played, which is why to this day I can still name which label a particular record was on from the 1960s; handy for any pub quiz.
Your first record?
So what was the first record you bought? Where did you buy your records? If you can share your memories with us, please leave a comment below.