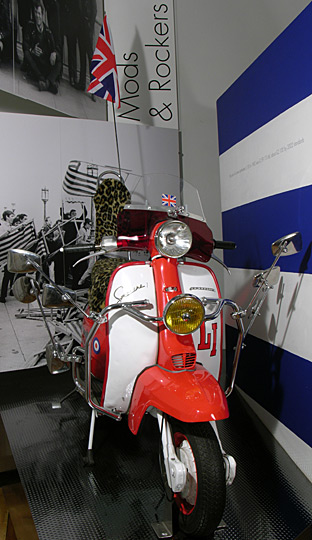 Royal Pavilion and Museums Brighton and Hove
A mac from Millet's
Brighton being the buzzy place it is and was, as young men we wore some curious clothing outfits. I would love it if someone could fill in some gaps about them. In my mid teens, I wore a short, black, PVC, shiny mac. It was bought, I think, from Millet's. Along with this, went a pair of bright red, hipster, 'ankle swingers' – trousers that showed your white socks and Hush Puppies. I found that I was too self conscious to wear the red trousers for long and dyed them burgundy. I remember that these clothing outfits were common at one of the Brighton Festival parties, on Madeira Drive, during the mid 1960s. This photograph from the site, shows a young man wearing the mac.
The height of fashion
I had thought that this outfit was a precursor to the 'mod' movement, but now I am not so sure. In between the PVC mac stage and the mod era, came the hippies and a return to jeans and tee shirts. As mods, we wore StaPressed trousers and Ben Sherman shirts (first made in Brighton and still available today). And, of course, khaki parkas. We drove scooters. So, to what sort of social grouping did those of us who wore the macs and red trousers belong to? Have I got the sequencing right?  It all sounds a bit lurid now but, at the time, it was all thought to be the height of fashion.
Do you remember your 1960s fashion? Were you a Mod – or were you a Rocker?

Share your memories with us by posting a comment below