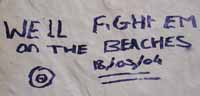 From a private collection
For many years Brighton and its surrounding areas have been an exceptionally popular location for shooting both television series and films. The pebbly beach, the Palace and West Piers, the narrow twisty tangled streets of the Lanes and the spectacular Royal Pavilion are just a few of the locations famous for providing the settings for movies on the big screen.
A phenomenal number of films have been shot on location in the city ranging from cult classics such as 'Quadrophenia' and 'Brighton Rock' to more modern films including 'The End Of The Affair', 'Me Without You' and most recently 'Wimbledon' which was filmed during 2003.
Many films using Brighton as a location fall into specific genres with the city providing a colourful backdrop to movies about gangster crime, violence and seedy sex. Glenda Clarke who is a tour guide within the city believes that as a consequence of these films Brighton has become "in a way a shorthand; it sets the scene. You mention Brighton and it instantly conjures up this image in people's minds."
Follow the links in the film list to find out more about the films that have been shot on location in the city and to see how some of the areas that feature in the films look today.