The End of the Affair (1999)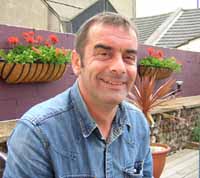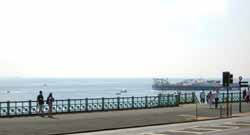 Roland remembers his experiences working as an extra in the filming of 'The End Of The Affair':
The Audition
They put up an advert in Brighton University actually aimed at students but it transpired that anyone, staff or students, could go along for the audition. I think they were just looking for a certain facial look, not particularly any acting ability as such, and enough hair to have it cut into a 1940s style.
I went through this audition where you just had to stand in front of a still camera to take your photograph and details and they said they'd get back to you as and when.
All Dressed Up: Costume Fitting
I got a phone call the next day or so and they said to come along for the next part, a costume fitting, and that was booked up at the Race Course. They had all the costumes there and we also had our hair cut. You had the fitting which was in my case a three-piece suit and a coat and shoes; you even had to wear a waist coat even though no-one can actually see that.
It's all original clothing [and] because fashions changed every six months as they do now, they had to be really particular about which year and which part of the year all the clothes were from. It was phenomenal the amount of clothes the wardrobe company had brought along. There were racks and racks of different clothes, and then of course they had to mix up different classes of people. Different people would be wearing different suits depending on occupation, whether it suits your age, whether it was the right part of the year and whether it fitted of course!
Lights, Camera, Action?
The actual filming took place not long after that. We all had to meet at the Race Course again to get our costumes on and then we got a bus down to the location of the seafront. A lot of it's just doing nothing; a huge amount of sitting around and doing nothing but there was still quite a lot to occupy me as it was my first experience.
The filming, as and when it occurs, is probably only about a couple of hours out of the day. Most of it's getting things ready, setting up and having rehearsals off camera. The street has to all be closed off [but] they had to let traffic through on the promenade when they weren't doing any filming. Every now and then they'd stop all the real traffic and get all the old cars to drive up and down.
A lot of rehearsals are done without the main actors. They have stand-ins who do five or six takes until they've get the sequence of people and vehicles moving up and down right [then] a limousine comes in with the stars and they just do one or two takes.
Behind The Scenes
It's quite interesting to see behind the scenes what actually goes on and how much of it is fake. There's meticulous attention to detail, even the rubbish in the bins was period rubbish like old OXO boxes. They painted over all the yellow lines on the road and any parking signs are covered over with a different sort of sign or an advert for something like Bovril or that sort of thing.
That was three days I spent on and those two scenes were probably five maybe ten minutes at the most of the whole film, probably not even that I would imagine in the end. It was certainly good fun and interesting [and] it was good to get that insight into what goes on as much as the qudos of actually being in a film!