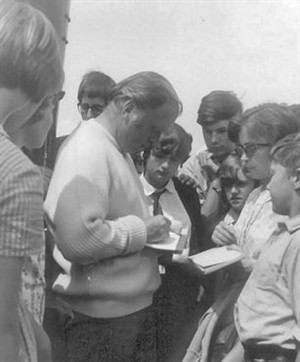 From the private collection of Jennifer Drury
Lots of picket fences
When the film company who made 'Oh what a Lovely War' (1968) came to Ovingdean there was great excitement. I remember seeing  the director of the film Richard Attenborough sitting on the wall of the field by the church.  The film crew were in the village for at least a couple of months – it took a long time for them to place all the white crosses on the hill.  For ages we had a helicopter overhead at about six o'clock in the morning – coming to get the light at the right position for the reflection of the crosses. At the end we were allowed to help ourselves to the crosses so there were lots of white picket fences springing up around the village which had been made by white crosses.
Problems with water supply
The film extras, who were women and children in long white dresses and carrying flowers, were shot strolling up the hill, putting them against various crosses. It took hours and hours, but when we watched the film, it only ran for about two minutes. The maternity field at the bottom of the road where the horses are, was turned into a quagmire by the Fire Service who had to pour gallons and gallons of water to make the Flanders trenches and they had soldiers in the mud. When they took all the water, the power of water went from the village. This meant they could not milk the cows, as they had not got the water for the dairy. It also meant you could not get a lot of water through your household taps.
Do you remember?
Were you in Ovingdean at this time? Perhaps you have other memories of the 'Oh What a Lovely War' filming. Share your reminiscences with us by posting a comment below.